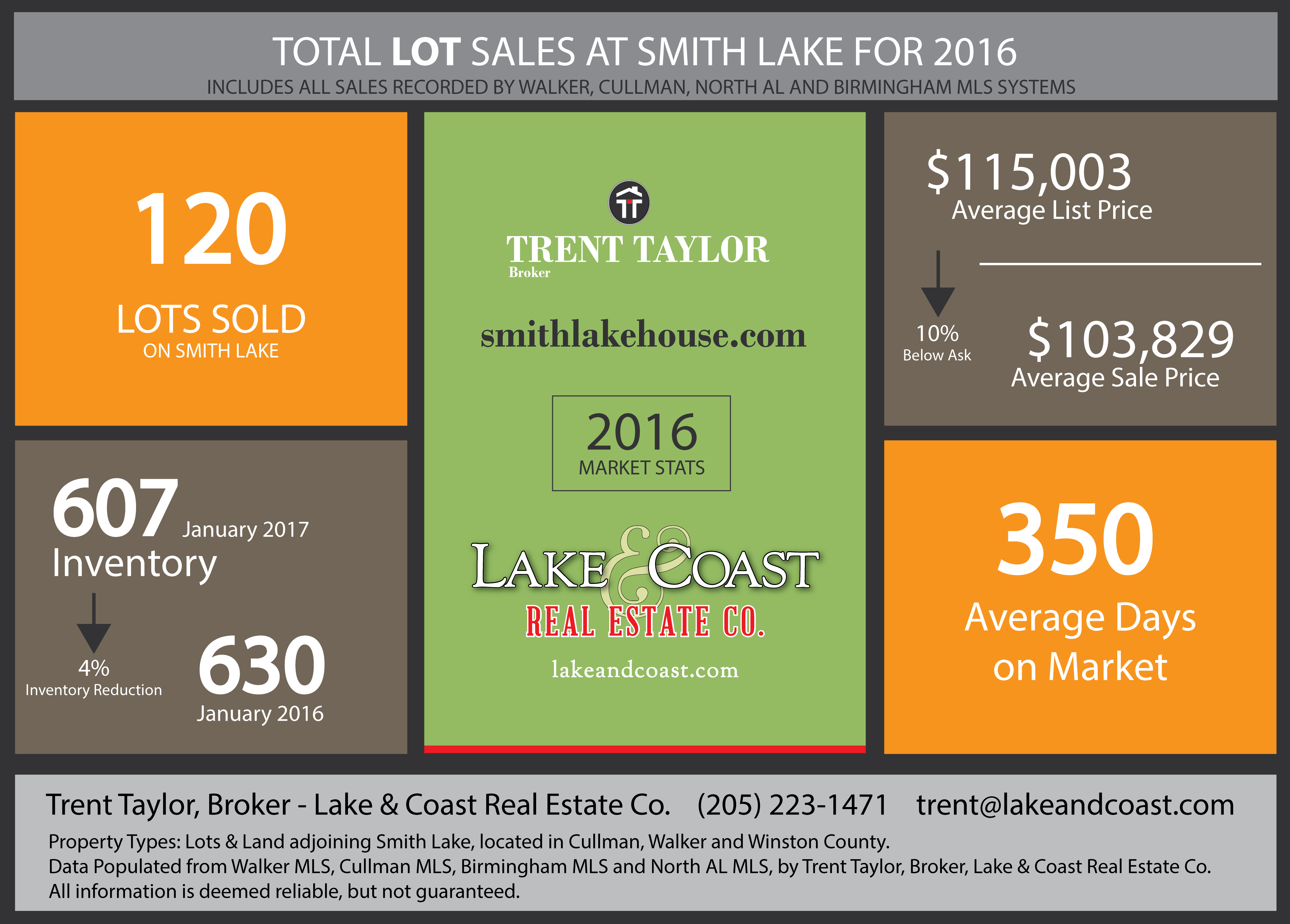 Smith Lake Lot Sales

– MARKET REPORT YEAR END 2016

120 Lots were sold on Smith Lake in 2016, doubling the number of lots sold in 2015. The land and lot inventory has had a small reduction of 4%, 2016 started off with 630 lots for sale and ended with 607. The reduction in inventory is consistent with the reduction in inventory from 2015, giving us a reduction in inventory of 4-5% per year on average.

If all things remain constant on sales of lake lots in 2017, our inventory should be reduced to less than a 6-year supply, down from a 9+ year supply estimate based on sales from 2015. If the increase in sales continues through 2017, it should stabilize prices in the next 12 – 24 months. The more popular locations on the lake are already seeing a stabilization in pricing for lots. The average time on the market for all lots that sold, across all areas of the lake is 350+ days. The average days on the market for all lots current for sale is around 700 days.

If you are looking to sell, be ready to price your property aggressively or be prepared for a possible long period on the market for it to sell. The market still has a long way to go to reduce lot inventory down to a reasonable point. We are still in a very strong buyers market when it comes to waterfront lots at Smith Lake.

If you are considering selling your Smith Lake home, contact Trent Taylor with Lake & Coast Real Estate Co. Trent is a top broker at Smith Lake and will treat you with honesty and integrity. He will push your home out to the world with some of the finest marketing skills in the industry.

*All information is deemed reliable but not guaranteed. Information was populated by combining data from the 4 MLS systems covering Smith Lake, Walker MLS, Cullman MLS, North AL MLS and Birmingham MLS.